Saturday, August 27, 2022, from 1-5 pm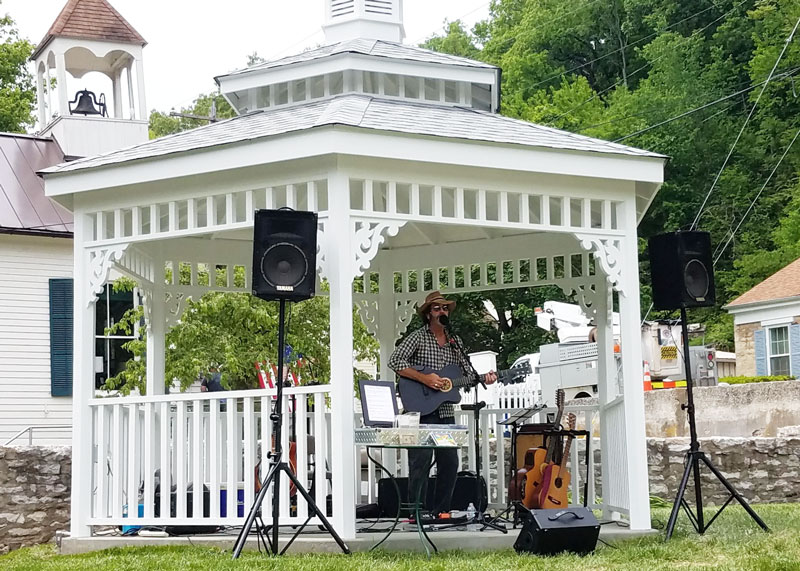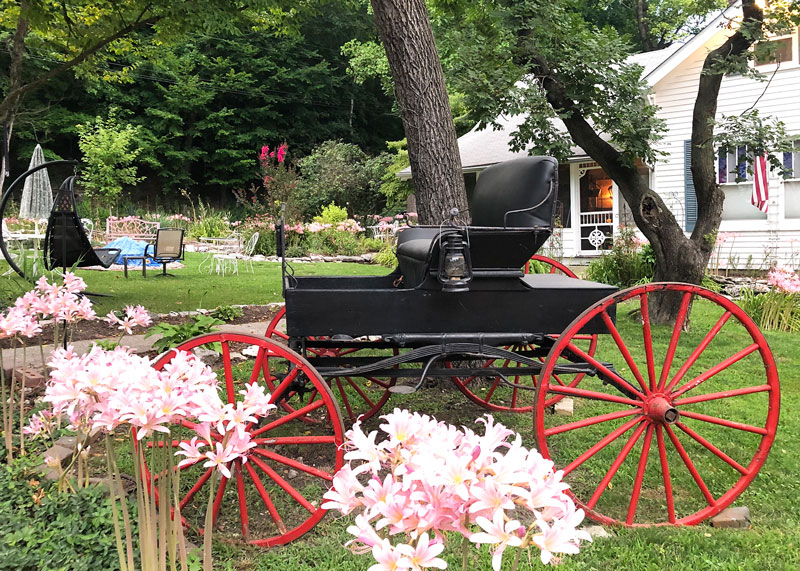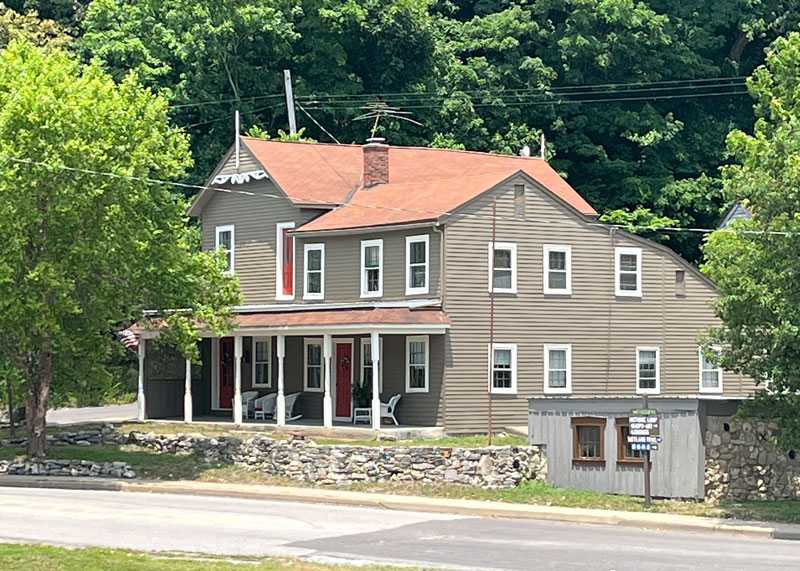 LIVE MUSIC at the Gazebo & Riverview House
REFRESHMENTS:
Hot dogs, chips, soda, water, baked goods, LULU'S Shaved Ice, Poputopia popcorn
ACTIVITIES:
Tours, Wetlands, Art, Photography, Crafts, Nature, Imported Goods, T-Shirts, Pottery, Folk Art, Fairy Garden, Museum, Wild Life Center
RIVERVIEW HOUSE
2 Mississippi Street, built in 1847, the 175-year-old historic treasure is Elsah's oldest structure and the first home you see as you enter the village from the Great River Road. Pre-dating Elsah which was founded in 1853, the building was known for years as the Riverside Hotel – a reliable stop for river traffic on the Mississippi.
Entertainment:

Justin Young

1:00 to 3:00 pm
As a world music percussion artist, Justin plays drums and many different styles of music – Latin drumming, punk, Blues, jazz, rock, funk, reggae, and linear rhythms. An author and recording artist, he has been in over 8 bands and played shows in the US, Thailand, and Canada. He is a certified Ishaya's Ascension Meditation Teacher serving those who are ready to experience deeper peace, joy, and gratitude in life.
Entertainment:

Dusty James & Abalone Pearl

3:15 to 5:00 pm
In the 2021 Great American Song Contest, the duo was named the top Finalist out of 1900 other quality songwriters from 42 countries. The acoustic duo performs folk & traditional, playing guitars, banjo, mandolin, dulcimer & harmonica. Walk back in time with the duo and take a listen to the songs that speak of a simpler era showcasing America's unique musical history.
THE ICE HOUSE
2 Mill Street, built in the 1850s, one of five in Elsah
PEACE WORKS
7 Mill Street, built in the 1850s. Mission-oriented gift shop with fair trade goods and creative artwork by local artisans.
Loretta Bell's handmade quilts on display and for sale during festival
ELSAH'S CONSTRUCTED WETLANDS & TRAIL TOUR
12 Mill Street – walk the trails and enjoy shaded seating along our creek. Trail starts at either the Gate House Bridge (parking) or at the 4-way-stop (parking-a half block back on Maple). Pick up your Self-Guided Tour Pamphlet & Map from any Elsah business location. Explore focused plantings along the newly installed Wetland Trail.
GREEN TREE INN BED & BREAKFAST
15-17 Mill St, built in 1986.
Honoring our 10-year anniversary – 10% sale! On-site Antique Shop.
Homemade Sweet Treats
Green Tree Inn Recipes and Remembrances Cookbook discounted to $10 (plus tax)
Walking History Tours of Village- 1:30 & 3:30 pm – Gary Davis –owner
GAZEBO behind GREEN TREE INN
Entertainment:

Jay Sabo

1:00 to 3:00 pm
A seasoned guitarist, singer, and performer in the Riverbend area having played most of the venues offering live music. He is the driving force behind the band "The MadBaileys" and will perform a solo set of his brand of music. His performance spans various genres punctuated with a healthy dollop of fun and a few sing-a-longs.
Entertainment:

Evan Ghislin

3:30 to 5:00 pm
A classically trained violinist with experience in other genres of music.
Food & Vendors
Village of Elsah Food Tent – Hot dogs, chips, soda, water (cash only)
Lulu's Shaved Ice Truck
Poputopia!
Ellen Connoyer Case – Signature Line of Tees
Sunflower Sketchpad – Notebooks, Desk Pads, Decorative Frames, etc.
Kevin Jefferys – What Wood Kevin Do – hand-carved wood items & more
Kurio – Custom photo lockets & Bimini bracelets – Jennifer Savage
The Earth Sprout – Boutique houseplant curation company
FARLEY MUSIC HALL
37 Mill Street, built in 1885.
Local Vendors
Historic Elsah Foundation – History, Baked Goods
Hope Ottwell – Photography
Jewelry Gems & More by Julie
Karen King – Fairy Gardens
Lori Hoffman – Jewelry, Painting & Photography
Marty McKay – Photography, Puzzles & Painting
Rosa Renner – Photography and Gifts
Yvonne Mossman – Photography cards
ELSAH SCHOOL/CIVIC CENTER
51 Mill Street, built in 1857.
Local Vendors
Carriage House Studio – Pottery – Barry and Connie Clayton
Crocker and Springer – Pottery
Odhiambo Photography – Mary and Samuel
Once Design – T-shirts and Piasa Bird Magnets
Phoenix Folk Art – Phoenix Czarnik
Pink Zebra Home Fragrance – Scent warmers & sprinkles, soap & sanitizers – Jennifer Stumpf
Tree House Wildlife – Bringing some of their resident animals 1-3 pm.
THE LOOK FACTORY & BARN
43 Mill Street, Built in 1856. European boho boutique. The barn next door will feature an art show with St. Louis artists Andy Dykeman, Jen Dykeman, Mark Regester, Katie Chilman, and Doug Raffety. Acoustic music by Bill Buzan at the barn.
RUMFORD FIREPLACE
Between Civic Center and Methodist Church, near bridge. Invented in the mid-1700s by Count Rumford, a British Tory – Designed and installed in 2016 by a resident and a Principia student.
UNITED METHODIST CHURCH
LaSalle & Valley St built in 1874 · Quilt Display in Church
CHRISTIAN SCIENCE CHURCH
53 LaSalle Street. Free refreshments.
Built and active since 1947. Stands at site of a 19thc. paper mill, destroyed by fire in 1868.
POLLINATOR GARDEN TOUR
Self-Guided Tour Pamphlet with map and pictures, available at all Elsah Business locations. Explore focused plantings designed in several areas throughout the village during the last two years. Parking available at corner of LaSalle and Maple Streets. Submit your completed entry for the $25 gift certificate at the Elsah General Store.
MAPLE LEAF COTTAGE INN
12 Selma Street
Stop by for a cool refreshing beverage and homemade baked goods
Register to win a free night's stay in Elsah at the Maple Leaf
Carole's Handmade Gems – Jewelry
L&L Lost Treasures – Lynn Morris
BUGGY SHOP
12 Selma Street, erected in 1877 as a wagon shop and later used as a blacksmith shop. The lettering is still visible across the gable end of the shop "Wagons and Buggies Made and Repaired."
Hot coffee, water, and samples of toasted coconut French Toast
VILLAGE OF ELSAH MUSEUM
26 LaSalle Street, built in 1887, as Village Hall. Open 1- 4:00 pm
ELSAH GENERAL STORE
22 LaSalle Street, built in 1877. Open 10-5 pm. A visit to Elsah General Store is like taking a step back in time. The storefront, built in the 1870s, was home to the local dry goods store in Elsah's early days. Today, it is a working general store with grocery essentials, butter, eggs, milk, and meats, as well as old fashion candy, vintage bottled soda, ice cream, bakery goods, specialty foods, jams, honey, coffees, pottery, cards, books, collectibles, and the Goodies Table. Enjoy a unique shopping experience in the heart of historic Elsah.
"LIFE IN THE POSTCARD" GALLERY
20 LaSalle Street – in the historic Keller Store – built in the 1850s
The gallery displays the work and projects of Jeff Depew Photography, including his lifelong and current, 'fine art black and white and landscape photography'. He presents images from the riverine ecosystem of the upper Mississippi, Illinois, and Missouri rivers, the historic town of Elsah, as well as his travels and workshops throughout the United States.
Also, home to Systir Studio, a working studio for Linda Drysdale, where she creates and displays her intricate paper botanical artwork.
THE MOTT BUILDING
18 LaSalle Street – Built in 1894. Formerly home of renowned Elsah Landing Restaurant. Recently renovated, currently for sale.
Local Vendors
Jenna's Homemade Dip Mixes and farmhouse crafts
Designs in Wine by Carol Morgan
CHRISTIAN SCIENCE READING ROOM
17 LaSalle Street. Built in 1931 by Bernard Maybeck, principal architect of Principia College, this gas station was designed for the Spatz brothers as a filling station. Renovated into a gallery in 1980, Reading Room currently. Hours: Saturday 1-3:00 pm
Share This Page with Friends!